6 Easy Upgrades to Add Value to Your Home Fast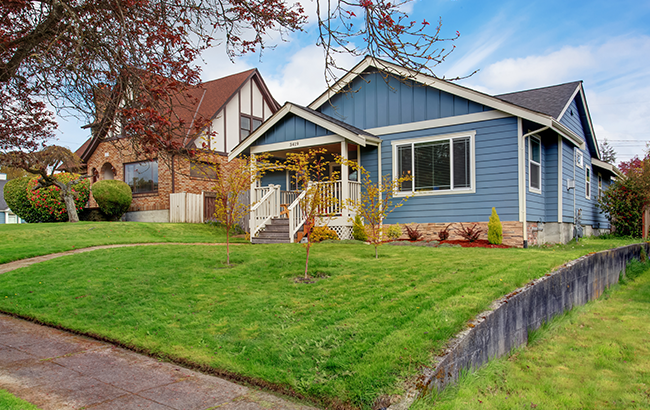 When you bought your home, it was an investment. Now it's time to make some upgrades so you can add value to your home once again.
It's common for homebuyers to think that just any upgrade will add value, but the reality is that some projects are well worth the investment while others are not. But don't worry, we have a list of six home upgrades that are sure to do the trick!
Kitchen Improvements
Kitchens are a significant investment for a homebuyer. They make up about 18 percent of the overall value, and it makes sense why: Kitchens are the heart of the home. The kitchen is where we cook, eat, and spend time with friends and family.
Much like any other room in your house, your kitchen could use an upgrade now and then to bring it up to date or match your new style. Here are some popular kitchen upgrades that will have your guests talking:
Glass tile backsplashes

New pantry organization and shelving

Stainless steel appliances

Custom cabinetry

Modern countertops

Pendant lighting
Fencing
Not everyone realizes it, but a fence is a great way to add value to your home. Fences come in many different styles, shapes, and materials. You can choose based on what you like and what type of fencing will work best for your home. Wooden fences are popular but more expensive than vinyl or wrought iron. Stone fences are the priciest option, but they can look stunning and last for decades with proper care. Trust us when we say something suits your style and fits within your budget out there.
Add a Deck
It might not seem like a big deal, but adding a deck to your home is one of the best ways to increase the value and appeal of your property. Adding this type of outdoor space can be done over the weekend, and it will provide an excellent opportunity for entertaining guests, especially in the spring and summer.
New Fixtures in Kitchen and Bathrooms
Replacing older fixtures with newer versions is an inexpensive way to give your home a contemporary look. New fixtures like faucets, sinks, cabinet hardware and lights are some of the most recommended ways to add value to your home and modernize your place on a budget.
Hardwood Floors or Look-Alikes
No matter where you are in the country, hardwood floors are desirable. But if hardwoods are not within your budget or just not suitable for your house, you can always upgrade your flooring to a look alike. LVT, laminate, and engineer hardwoods have all come a long way in recent years. Many of these options look similar to hardwoods and still add more value than tile options.
Energy Efficiency Upgrades
If you're looking to upgrade your home, it's worth investing in energy efficiency. An energy audit will tell you which upgrades are best. For example, replacing windows, doors, and even some appliances can help save a substantial amount of money and energy.
No Need for Home Upgrades with Kansas Property Solutions
Kansas Property Solutions has your back if you're ready to sell your house, but you're not looking to add value to your home through expensive upgrades. If you have a home to sell in Wichita, Kansas, or another surrounding area, we purchase homes for a fair price with cash directly from the seller. And we buy it as is! No need for renovations here! Ready to learn more about our process? Contact us today for a no-obligation offer on your Wichita house!
Want a Fast, Fair, No-Hassle Offer on your House?
Need to sell quickly or just don't want the cost and delays of putting your house on the market and having strangers in and out of your house, possibly for months? We can help!